Japanese manufacturer Scythe is hereby announcing the successor of Kaze Station 3.5. New Kaze Station II allows a useful utilization of vacant 3.5 inch bays of the PC chassis. Kaze Station II offers two USB 3.0 ports, which is especially beneficial for PC chassis that lack support for this new standard. It is furthermore equipped with a two channel fan controller, one microphone and headphone connector.
Overall design is based on the Kaze Station 3.5 and kept simple in order to match a wide range of PC chassis. Both USB 3.0 ports are connected directly to the motherboard using a header-pin connector. Likewise, both the microphone and the headphone connector come with a header-pin connector for convenient connection to the Motherboard.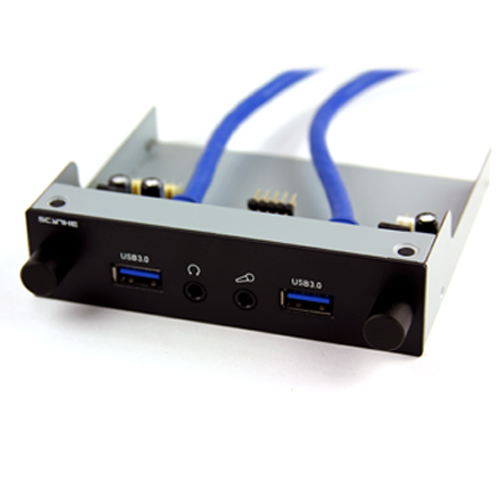 Furthermore Kaze Station II is equipped with a fan controller, allowing users to individually adjust fan speed of up to two case fans. Typically for Scythe fan controllers, potentiometer with a wide voltage regulation range from 3,7 to 12 Volts are being used. Thanks to the supplied 4-pin fan connectors users are able to adjust fan speed of PWM fans through voltage regulation.
Scythe designed Kaze Station II similar to the predecessor very compact to fit a vacant 3,5 inch bay of PC chassis. All required mounting screws, connection cables as well as a user manual are supplied in the package.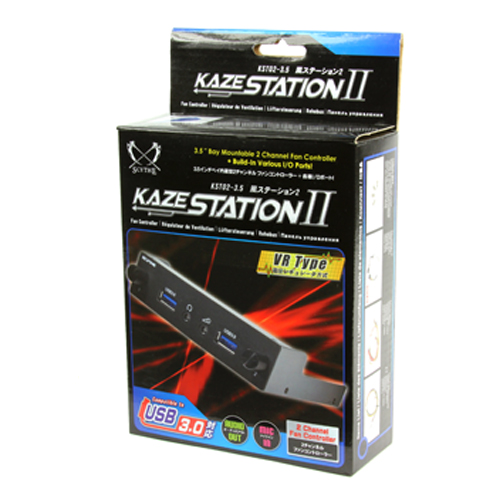 New Scythe Kaze Station II (model number KST02-3.5) is available as of today. Suggested MSRP is 15,00 EUR excluding VAT and tax.
**********************************************
Kaze Station II Product Page
Kaze Station II Data Sheet
Kaze Station II high. res. pictures
Kaze Station II Product Video
**********************************************
About Scythe
Scythe is one of the world's leading manufacturers of CPU coolers, graphic card coolers, fans, fan controllers, power supplies, cases and other PC accessories. Operating since November 2002, is headquartered in Tokyo (Japan) and has offices in Oststeinbek (Germany) and Taipei (Taiwan).