Japanese cooling expert Scythe is hereby announcing the revision B of BIG Shuriken 2. Similar to the recently updated CPU Coolers Mugen 3, Mugen 3 PCGH and Ninja 3, now BIG Shuriken 2 in Rev. B is fully supporting the new enthusiast socket LGA2011 from Intel®. Furthermore Socket compatibility list includes latest Intel® socket LGA1155, LGA1156, LGA775, LGA1366 as well as AMD® socket AM2, AM2+, AM3, AM3+ and FM1.
Well-proven heatsink design allows Big Shuriken 2 Rev. B to keep the overall height low to not exceed 58 millimeter. Total of 5 curved copper-heatpipes are connecting the nickel-plated copper-base with the two upper layers of aluminum fins on top of which the slim 120 mm axial-fan is located.
Scythe BIG Shuriken 2 Rev. B is equipped with a Slip Stream 120 Slim axial fan, supporting PWM fan control function. This allows easy and dynamic adjustment of fan speed supported by all currently on-market motherboards. Supplied Fan speed can be adjusted individually between 500 and 2.000 RPM. Hence allows the BIG Shuriken 2 Rev. B to operate silently when required at a noise level between 9,32 and 33,67 dBA, creating an airflow between 21 and 78 m³/h (12,13 – 45,47 CFM).
Scythe Big Shuriken 2 Rev. B (Model No. SCBSK-2100 ) is available as of today for 30,00 EUR (excl. VAT/TAX).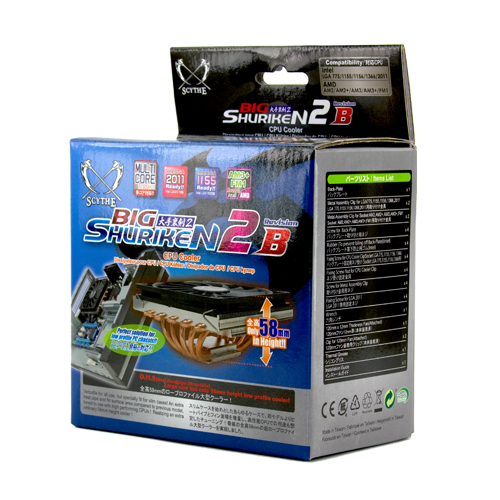 **********************************************
BIG Shuriken 2 Rev. B Product page
BIG Shuriken 2 Rev. B Data Sheet
BIG Shuriken 2 Rev. B high-resolution pictures
**********************************************
About Scythe
Scythe is one of the world's leading manufacturers of CPU coolers, graphic card coolers, fans, fan controllers, power supplies, cases and other PC accessories. Operating since November 2002, is headquartered in Tokyo (Japan) and has offices in Oststeinbek (Germany), Los Angeles (USA) and Taipei (Taiwan).