Oststeinbek (Germany) – Japanese manufacturer Scythe announces a new addition to its Amplifier portfolio. After they successfully launched the flagship-model Kama Bay Amp Pro, a more powerful version of the Kama Bay Amp Mini is available as of today! Kama Bay Amp Mini Pro combines the powerful technology of the flagship into a much smaller chassis of the Kama Bay Amp Mini, allowing users to enjoy even better sound quality.
Scythe utilized high-end technology for Kama Bay Amp Mini PRO and placed it into a small chassis with the dimensions of 105,5 x 33,5 x 153 mm. Thanks to this amazingly compact design, it is possible to fit the new amplifier into a vacant 3,5-inch (8,89 cm) bay of a common PC case. The Kama Bay Amp Mini PRO can be both used as a stand-alone device or inside a PC case. Two side panels and three insulating feet are supplied, to turn the Kama Bay Amp Mini Pro into a stylish stand-alone device, making it suitable for a desktop or living room environment.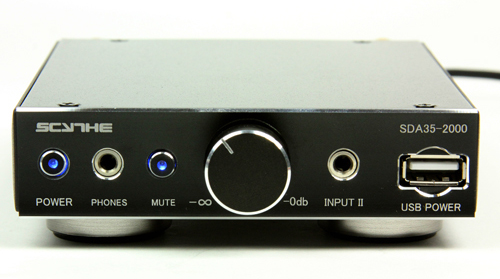 The Kama Bay Amp Mini Pro is featuring a great aluminum-design on the outside as well as high-tech components on the inside. The Kama Bay Amp Mini Pro is drawing its' energy from a powerful MAXIM® Max 98400A IC, which allows continuous max. output of 20 watts per channel at 8 Ohm (40 W total). At the same time a wide frequency range from 20 Hz to 20 kHz can be covered. High energy efficiency was one of the key targets when designing this compact amplifier. A big knob on the front side allows users to adjust the volume conveniently. Both power and mute buttons are illuminated for better visibility. External sources can be connected on the front side using the "Input II" 3,5 mm Jack connector. In addition, one 3,5 mm Headphone-Jack is located between the power and mute button. To further increase the usability, a USB connector in the front is allowing users to charge their MP3 players or Smartphones while playing music..
Scythe Kama Bay Amp Mini Pro is equipped with RCA connectors and speaker terminals on the rear side. Both the RCA connectors and the speaker terminals (support banana plugs) are gold plated, to improve conductivity and prevent rust. Thanks to the big variety of connectors and input types, the Kama Bay Amp Mini Pro can be conveniently used with Game Consoles, MP3 players, Smartphones or even hidden inside a PC. All the required cables as well as the AC Adapter and PCI brackets are supplied with the new Kama Bay Amp Mini Pro amplifier.
Scythe's new Kama Bay Amp Mini Pro amplifier (model no. SDAR35-2000) is available as of today for 50,35 EUR (excluding Taxes).
**********************************************
Scythe Kama Bay Amp Mini Pro – Product Page
Scythe Kama Bay Amp Mini Pro – Data Sheet
Scythe Kama Bay Amp Mini Pro – high-resolution Images
**********************************************