Japanese manufacturer Scythe expands its product portfolio of high quality accessories by a brand new product, the CF-Reader. New CF-Reader is a portable card reader which is supporting CompactFlash cards of Type I and Type II as well as UDMA. Furthermore it is featuring the fast USB 3.0 interface allowing data transfer rates of over 100 MB per second. Thanks to its downward compatibility Scythe CF-Reader natively supports the former and yet widely used USB 2.0 interface.
Thanks to its very practical form factor Scythe CF-Reader looks rather like a common USB Stick which allows easy transport and mobile usage with Notebooks and Ultrabooks. To ensure safe and comfortable transport it furthermore comes with a useful silicon case which covers both the USB Connector and the the CompactFlash Slot. It additionally provides protection against damage caused by impacts or drops. Supplied silicon case is made to perfectly fit the CF-Reader to ensure easy fitting and removing of the Scythe CF-Reader.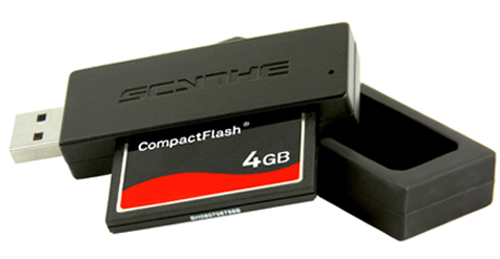 To further increase the security, a loop has been implemented, allowing the silicon case to be hooked to camera cases and even lanyards, assuring you won't lose it. Total weight of only 14 grams makes the Scythe CF-Reader the best choice for portable usage. Total dimensions of 26 x 75 x 10,8 Millimeter underline this statement furthermore.
Scythe CF-Reader supports both Windows® as well as Mac OS® operating systems and doesn't require the installation of drivers or any settings configuration, making it really easy to use for everyone.
New Scythe CF-Reader (Product No. SCCFR-1000) is available as of today on the market for 16,70 EUR MSRP (w/o Tax/VAT).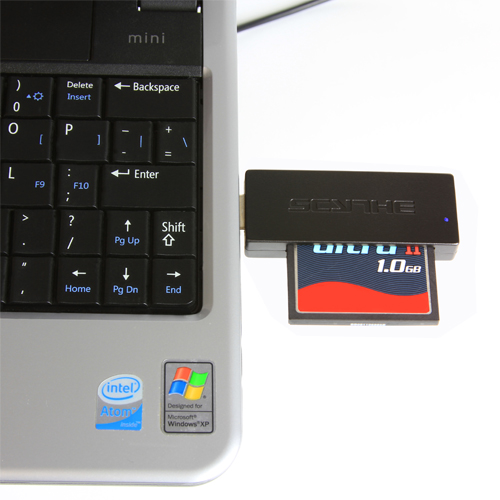 **********************************************
CF-Reader Product Page
CF-Reader Data Sheet
CF-Reader hight resolution images
CF-Reader Product Video
**********************************************
About Scythe
Scythe is one of the world's leading manufacturers of CPU coolers, graphic card coolers, fans, fan controllers, power supplies, cases and other PC accessories. Operating since November 2002, is headquartered in Tokyo (Japan) and has offices in Oststeinbek (Germany), Los Angeles (USA) and Taipei (Taiwan).